Brown Goes Green: Steve Brankle Turns John Brown University Into Arkansas' First Zero-Landfill Campus
Students at John Brown University in Siloam Springs are receiving an education in sustainability.
From using environmentally friendly cleaning supplies to being the first zero-landfill campus in Arkansas, the private Christian college is teaching students that being green can also save money.
The school's strategy is to examine every policy and purchase to determine if it can be done with less energy or waste while saving money at the same time. The university touts that since 2000 its energy cost per SF has been slashed by 14 percent – despite its gas and electricity utilities rates rising, said Steve Brankle, director of Facility Services and sustainability at JBU.
The 46-year-old Brankle scrutinizes everything on campus, constantly searching for ways to trim energy use while saving money. "Once I started finding ways to do it, it just really got me excited," he said. "It's almost an obsession with me now."
Savings Come in All Sizes
Making small changes means savings that will add up for JBU. The school switched its trash bag contract in 2013 to Revolution Bag of Little Rock, a subsidiary of Delta Plastics of the South LLC. The trash bags are made from recycled polyethylene and cost JBU $5,000 less annually than its previous bag contract.
Other savings come from recycling all sorts of items found around campus. The school is adding onto the Mabee Center and will replace its inefficient chiller during spring break. It will sell the Freon in the machine and the metal, receiving about $5,000.
The kitchen grease generated from frying food in the cafeteria also is put to use, Brankle said. In the spring of 2012, the school started converting the grease into biodiesel to run its lawnmowers.
"We can make biodiesel for about $1.50 less a gallon than we can buy diesel for," he says.
Other projects on the drawing board include retrofitting the lights from fluorescents to even more efficient LED alternatives.
Also on Brankle's wish list is receiving the necessary regulatory approval to use treated water from the neighboring sewer plant to irrigate the campus. Arkansas law doesn't allow the treated wastewater to be used that way, "but we're hoping that's going to change," he said.
All the sustainability projects the school has tackled have either saved it money or broken even, Brankle said.
"So not only are we making our impact on the environment smaller, we're decreasing the amount of money we're spending on stuff," he said.
Cleaning Greener
At the end of 2007, JBU announced that it was going green with all of the cleaning products its custodians use.
The school replaced its cleaning supplies with products from Green Seal Inc. of Washington, D.C., after learning that they not only clean well but they cost about the same as traditional products — a win-win for JBU and the environment.
The Green Seal products have lower volatile organic compounds than traditional products, meaning they are better for indoor air quality and produce a healthier environment.
Zero Landfill
Another key moment for JBU's sustainable efforts came during a meeting with Siloam Springs city officials about two or three years ago, Brankle said.
Several representatives from other companies were there and they had successfully transitioned to zero landfill, meaning that trash is rerouted from landfills to either recycling centers or non-emission incinerators. "We said, 'Why aren't we doing that?'" Brankle said.
The school spent $60,000 to get the project started, which included buying two trash compactors and recycle bins.
JBU, however, removed its dumpsters from campus, which in turn lowered its waste removal fee from the city from about $60,000 annually to $20,000.
"We're going to pay back our initial cost in less than two years," Brankle said.
On July 2, 2012, JBU became the first campus in Arkansas to be zero landfill.
Across campus, recycling bins can be found in dorm rooms, classrooms, common areas, and office and meeting rooms. The faculty and staff are given recycling bins that reduce the number of plastic bags used. The items that don't make it into one of the several recycling containers, from aerosol cans to light bulbs, are collected, compacted and sent by the City of Siloam Springs to an incinerator in Tulsa — another plus for the environment, Brankle said.
The non-emission incinerator generates electricity as it's destroying the waste.
"So no harmful emissions are going out, and nothing is going into the landfill," he said.
Energy Use
Another sustainable area the school targeted was its electric use. For years, buildings on campus were heated or cooled day and night, but that all changed in the summer of 2012. The school connected its electric meters to a central computer that allows Brankle to micromanage the temperatures across campus.
"We try to keep temperatures where they need to be where people are," he said. "But, in the gym, if nobody's practicing or nobody's playing there, why are we keeping it at 70 degrees?"
The electronic monitoring not only helps reduce the amount of electricity used, but it also saves the school money on its electric bill. In 2012, the electricity monitoring saved JBU about $25,000, but in 2013, it is expected to save about $60,000, he said.
The energy-saving moves have shown up in JBU's bottom line. In October 2011, JBU used the least amount of electricity for the month of October since 1999, despite adding 300,000 SF of buildings to the campus.
"It's amazing," he said. "But really, it just shows you what you can do."
What It Takes To Be a "Zero"

JBU partners with local waste management authorities and businesses to recycle everything possible and convert the rest to energy. Here are some of their tactics:
Metal: salvaged and sold to local metal recycling companies
Plastics, cardboard, paper and glass: sent to city of Siloam Springs for recycling
Plastic: taken to a local retail store that offers consumer recycling
E-Waste: Recycled by eSco
Batteries & lead-based materials: recycled locally
Rechargeable & non-lead batteries: taken to Lowe's for recycling
Mercury-containing light bulbs: sent to Waste Management
Kitchen grease: converted to biodiesel and used in lawn mowers
Cafeteria waste: taken to local hog farm
Students' unwanted items: workers from the Salvation Army take away reusable items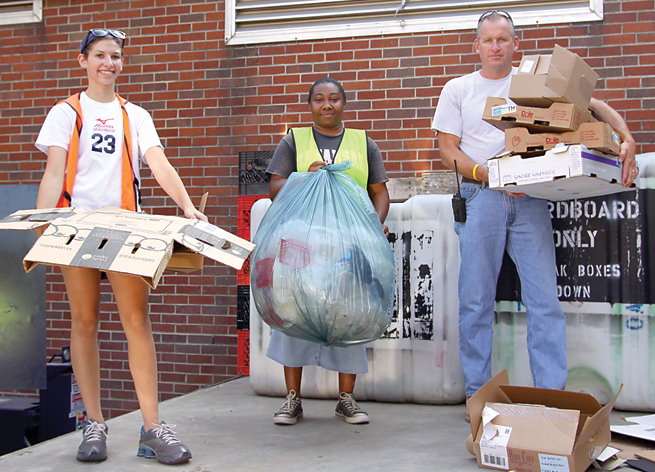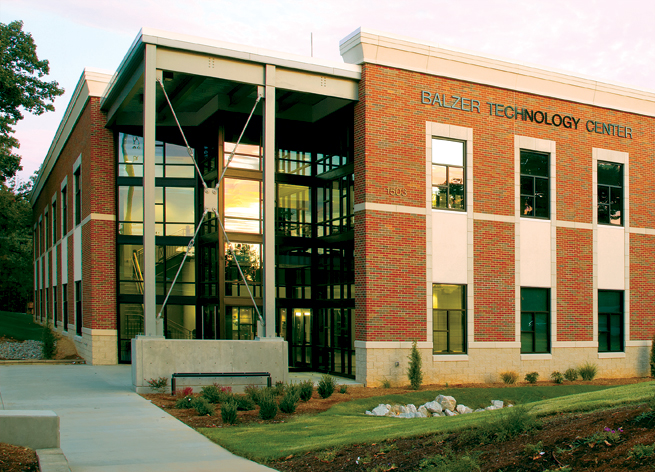 Permalink